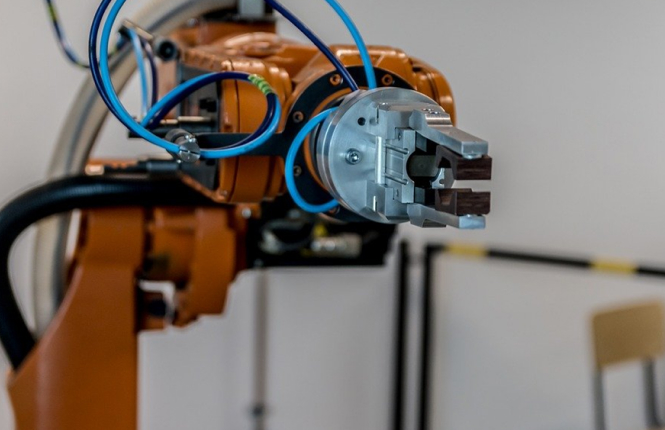 Will Germany become the Silicon Valley of AI software?
Mechanical and plant engineering in Germany has the best prerequisites to reach the top of the world with AI software. So far, however, there has been a lack of courage, innovative spirit, and consistent training. According to a recent Bitkom study, two-thirds of all German companies consider artificial intelligence (AI) to be the most important technology of the future. In addition, it is often said that Germany urgently needs to pick up the pace in order to be competitive with America and China. One would expect a lot to happen, not least in German mechanical engineering. Where, if not here, where people keep talking about German engineering, should one expect a spirit of innovation? But the opposite is the case. As the same study shows, only 8 % of companies use AI applications so far.
Medium-sized companies in particular still seem to lack the courage. Thanks to Industry 4.0, German manufacturers of production machines can draw on a globally unique reservoir of digital machine data as well as customer and company data. Robot density in Germany is also high: there are 309 industrial robots per 10,000 employees. Only in South Korea and Singapore is the density even higher. A lack of technology is therefore not the reason why mechanical engineering in Germany is lagging behind when it comes to AI. Even small and medium-sized companies have equipped many of their machines with sensors that permanently collect data. But this data is still rarely used to its full extent. The industry in Germany is lagging behind the international tech companies, which know exactly what role data will play in the future.
AI usage in mechanical and plant engineering
Data forms the basis for a successful approach to AI. In order to build solutions that add value in an industrial context, it is almost always necessary to have significantly more relevant and clearly structured data than initially assumed. However, the steps for developing AI solutions are always the same: Collect, process and analyse sufficient amounts of data. Insights from the data analysis should then be translated into instructions for action, for example for optimised production processes or for improved interaction between humans and machines. However, it is precisely at this point that AI often fails in the German industry, because not only is there a lack of courage, but in some places also a lack of know-how in dealing with data.
The German industry is among the world leaders in B2B applications such as the global operation of production facilities. Moreover, graduates who have gone through Germany's excellent STEM education system meet the requirements to work as AI experts. However, they are still not being specifically trained for this. This should happen, especially in mechanical and plant engineering. There is still a lack of project managers with the ability to recognise where they could build value-creating solutions in their domain using AI.
Germany as the Silicon Valley for AI software
The AI market in Germany is small. Nevertheless, Germany has the potential to become the Silicon Valley for AI-based software products and thus transform the production of the future. For this, the German industry must use its global market access to quickly generate large data pools. The much larger markets in the USA and China, with their more uniform legal spaces, have been able to act faster so far. Moreover, they are already several steps ahead in collecting, storing and analysing data.
Tools and software products still mostly come from globally active US companies like Amazon or Microsoft. However, with the right talent, innovative spirit and courage, AI made in Germany can also prevail. If 80% instead of 8% of German companies use AI in the future, mechanical and plant engineering could emerge as the international pulse generator for AI development. Without AI, on the other hand, the competitive advantage of German engineering will shrink in the long run.