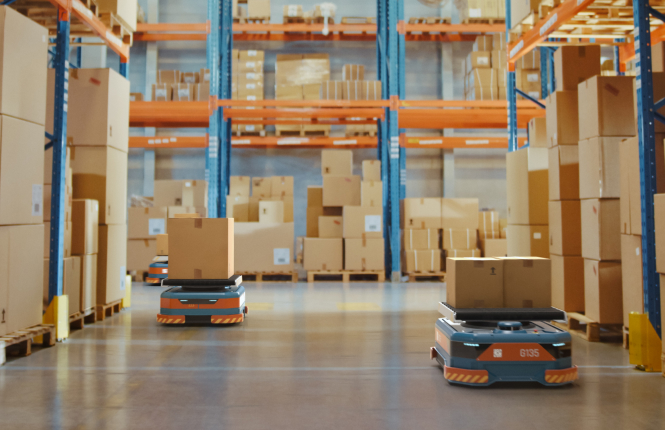 Four new robots working in Amazon's warehouses: autonomous and AI-powered to relieve human workloads
Amazon is rigorously testing and developing four autonomous robots to help moving boxes, carts and packages around Amazon's facilities, helping to make employees' jobs safer: (1) "Ernie" puts people in a better position, (2) "Bert" Autonomous Mobile Robot charting new paths to safety, (3) Scooter loads a number of freight wagons or trailers with parcels and (4) Kermit moves empty totes.
Amazon warehouse employees will soon have new co-workers: Ernie, Bert, Scooter and Kermit. They are Amazon's new autonomous, artificially intelligent robots, and they aim is to help free up workloads and improve safety for human workers.
With the idea in mind of reducing workplace accidents by 50% by 2025, Amazon has launched these four new robots. Indeed, they are investing more than $300 million in safety products each year to achieve this goal. Let's take a look at what each of the new robots is all about.
Four robots, four different tasks
Starting with Ernie, his main task is to pick up and deliver packages and boxes from mobile units to humans. This means that the human has to bend down and stretch his body less, making the task much easier. Ernie is a kind of robotic arm that sucks up the boxes to pick them up and moves them on a mechanical belt to transport them.
"We're known for being passionate about innovating for customers, but being able to innovate with robotics for our employees is something that gives me an extra kick of motivation each day," said Kevin Keck, worldwide director of Advanced Technology at Amazon. "The innovation with a robot like Ernie is interesting because while it doesn't make the process go any faster, we're optimistic, based on our testing, it can make our facilities safer for employees."
Check out how Ernie supports employees by delivering totes:
The second of the robots is Bert. Bert is said to be one of the first fully autonomous robots ever created. Its purpose is to move around large warehouses to transport boxes and other items from one place to another. All without the need for human supervision, freeing up a lot of work, especially in terms of time. Eventually, it will be able to move larger and heavier loads.
As Teresa Lykstad (an Amazon employee who works in the research and innovation lab) said that "Ernie is working out really well in the testing; I think it's safer".
Amazon's first Autonomous Mobile Robots, Bert carries items across an Amazon warehouse:
There is also Scooter, a robot that Amazon says is also used autonomously and also to transport cargo. In this case it is like a small locomotive, loading a series of freight wagons or trailers with packages. It moves autonomously and carries packages from one point to another.
Look at how Scooter pulls carts through an Amazon fulfilment centre:
Finally, Kermit, another autonomous robot designed to transport loads. In this case the load is simply empty boxes. Kermit is autonomous but not as autonomous as Bert for example, it requires magnetic strips on the floor to guide it.
Check how Kermit moves empty totes at an Amazon fulfilment centre: